Hope your Monday wasn't too bad,
and you were able to steer clear of delinquent pandas.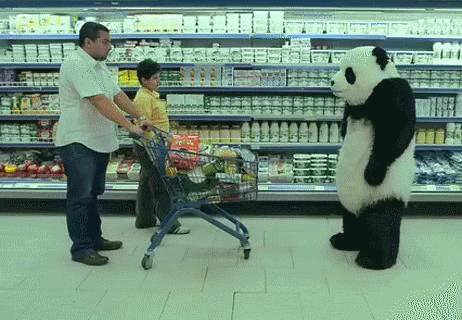 What an ass!
Anyway, in an effort to have more of an online presence, I decided to start posting book reviews on my blog. I mean, why not, if I'm already doing a review.
I've got two reviews for you today. First up...
Song Magick by Elisabeth Hamill.
I gave it 5 stars ~
An enchanting YA fantasy.
I haven't read anything like Song Magick before, it was a nice change.
The thing that stood out most for me was the beautiful writing. Hamill has a unique way with words that capture the beauty of fantasy and bring it to life; this was especially vital to her wonderful world building. I truly enjoyed the medieval-style realm where the story takes place.
The characters were well developed, Telyn is strong-willed and Mithrais is swoon worthy. I loved the chemistry between them. Even the secondary characters seemed fully realized and gave reason to either love or hate them.
This story has plenty of action, drama, and romance. I'd love to see more of these characters and more from this author.
Next up...
Cloak of Shadows by CK Dawn
I gave it 4 stars ~ I'd recommend.
Cloak of Shadows is a hard one for me to rate and review. It was a little more fantasy than I'm used to, so sometimes I had a hard time with the supernatural terms. But I can say this, the Netherwalkers are creepy and the thought of them being real and only seen as strange shadow lurking in a dark corner. EEEK!
The blurb seems like the story is supposed to be about fourteen-year-old Abby and her mentor Lourdie, and I think that's how younger readers will feel. But for me, it felt more like the story was about Lourdie and her side-kick Abby. Not that it was a problem. I just thought I'd mention it, because I think the story will appeal to wide variety of readers.
I really liked Lourdie. She's totally cool and kick-ass. Abby was a little more on the annoying side, like a little sister. I enjoyed the love interests with both of the girls. While Abby's was a little more on the sweet side, the banter between Lourdie and Temple was fun. (I'd like to order my own Temple, please.)
The book started a little slow for me, but in the end there was a lot of action.
So that's it for me today.